In the early seventies, Plymouth offered performance in an economy package in the shape of the Duster 340. PAUL BUSSEY caught up with a Kent-based fan of Plymouth's pocket rocket.
"STEVE'S IDEA OF HOW THE CAR SHOULD LOOK INCLUDED HIM FITTING A SET OF CHROME WHEELS, FULLY CHROMING THE ENGINE BAY, AND A STRAIGHT THROUGH CHERRY BOMB EXHAUST SYSTEM!"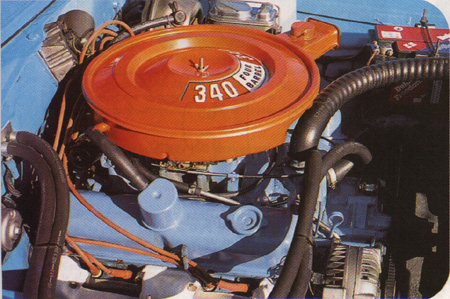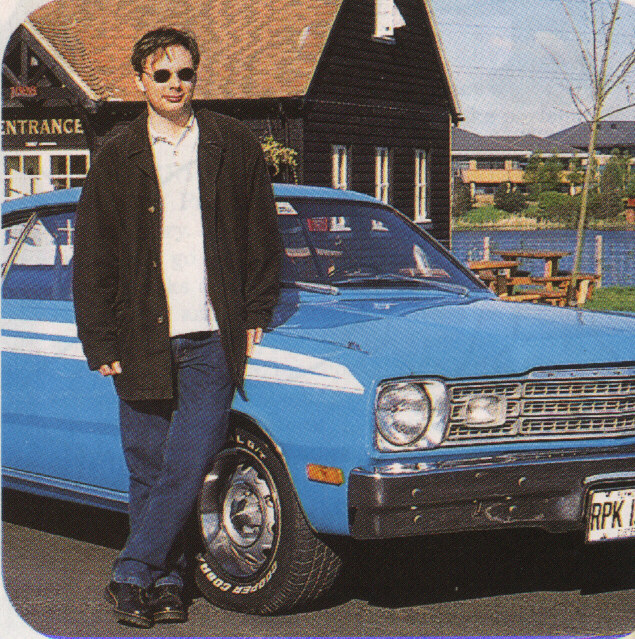 340cu.in. MAKES 275BHP
A VERITABLE feast of mouthwatering Mopar muscle cars was available to the discerning performance minded enthusiast during the late Sixties and early Seventies. Those were the days when Chrysler's commitment to the ultimate in power and speed was whole-hearted.
However many of Chrysler's more mundane offerings did not always benefit from the limelight of their more glamorous stablemates; nonetheless, these cars still enjoy an enthusiastic following in their own right today. One such car is owned by Kent postman Steve Bainbridge, a 1973 Plymouth Duster 340 Sports Coupe, imported into the UK from Oregon in 1988 by RPM (Rare Performance Motors), of Aldershot, Hampshire.
Introduced in 1970 as a roomy Sports Coupe with semifastback styling, the Duster formed part of Plymouth's compact Valiant/Scamp line-up, its sister Dodge offering, was the Demon, which became the Dart Sport in 1973 (apparently the satanic overtones of the Demon were too much for some good Christian Mopar-buyers!).
Production of the Duster lasted until 1976 and was then dropped for two years before being reintroduced in 1979 as part of Plymouth's Volare model line-up. The Duster was initially offered with a 198cu.in. slant-six base engine, rated at 125bhp, or an optional 225cu.in. slant-six, or a 318cu.in. V8. The top-of the-range engine was a 340cu.in. V8 rated at 275bhp, which was later superseded by a 245bhp, 360cu.in. V8 in 1974.
Transmissions available were a three-speed TorqueFlite automatic and three or four-speed manual 'boxes. The Duster was seen as a reasonably priced ($2822 for Steve's 340 new in'73), economical car, offering spirited performance with the 340cu.in. engine and accommodation for up to five people.
It shared the same front-end styling as the Valiant, as well as the dashboard. Over the years variants included a Space Duster whereby the rear seat folded forward for extra luggage capacity (up to six-feet long), a Gold and Silver Duster Custom Duster, Duster Twister and would you believe, even a feather Duster?!
The latter was introduced in 1976 and with economy very much in mind; it featured an aluminium trunk lid, hood, inner panels, bumper reinforcements, intake manifold, transmission case, and boasted 24mpg around town and 36mpg highway driving. Built at the Hamtramck assembly plant, Michigan, Steve Bainbridge's Duster features the more desirable 340cu.in. V8 engine with a useful 3401b.ft. torque at 3200rpm. It also has the four-speed A833 manual box, with a Hurst shifter and is a matching-numbers car. Running gear includes heavy duty suspension with torsion bar at the front and six leaf springs at the rear, 8-inch rear axle with 3.21:1 ratio, power front disc brakes, 15-inch Rallye wheels, and a dual exhaust system. Inside standard equipment includes a split front bench-seat in black vinyl, carpets,   front and rear arm-rest,        woodgrain instrument panel and door trim, deluxe steering wheel and A-pillar mouldings.
Steve's car was originally sold to a GI through the military sales bank. Chrysler did favourable deals through the US military where GIs could take advantage of savings schemes promoted by the US government. With the lighter A-body (32001bs) and 240bhp on tap, the Duster 340 represented quite a fast car for an economy model. Total production of Dusters for 1973 was 15,731. Back in 1984 when Steve Bainbridge was 18, his enthusiasm for owning an American car was whetted by reading running reports in Street Machine magazine and by watching road movies on television. At the time he had visions of cruising around in something like a Trans Am, but his insurance company was not quite so keen, judging by the hefty premiums they quoted him! So his dream of American car ownership had to be put on hold for the next five years until 1989 when his burning desire for a Yank could not be contained any longer `By now I'd gone off the idea of a Trans Am,' says Steve. `I'd always liked Mopar muscle cars, but models like the Chargers, Challengers and Cudas were beyond my budget. I did go and look at a late Sixties Chevrolet Impala in Dover, but unbeknown to me, it was finished in an outrageous pink metalflake paintwork complete with   `The Beast' graphics, if I      remember rightly, which came as a bit of a shock and it just didn't appeal at all!
The Duster was in fact only the second car I viewed and was sourced from the American Car Exchange at Farnborough, Hampshire. To be honest, patience is not my greatest virtue and I'm no good at waiting for things, so I had the money available, badly wanted to buy a car and the Duster was the only car they had that I could afford!
Steve liked its styling, it drove well and so he bought it. In hindsight he admits he probably should have really done his homework on the model and had it fully checked out beforehand. It could have turned into a real disaster, but luck must have been on his side that day, as he's owned the Duster now for ten years.
`When I drove it home for the first time I floored the accelerator on the M25 and it scared the hell out of me, as I quickly saw 1l5mph on the speedo and thought, hold on, better slow down a little!'
Apart from a few scratches and one or two knocks, the car's bodywork, finished in the vivid colour of Basin Street Blue, with white decals, was in pretty good shape. Sadly, six months later Steve was made redundant from his job and reluctantly the Duster was advertised for sale. `The response I had from the ads was awful and I didn't receive a single call,' Steve recalls. `I'm glad about it now though, fortunately I got a job with the Post Office and the Duster didn't need to be sold.'
Steve's idea of how the car should look included him fitting a set of chrome wheels, fully chroming the engine bay, and a straight-through cherry bomb exhaust system! He's also entered it at the `Run What Ya Brung' events at Santa Pod where his best time was a 15.7 seconds over the quarter mile. He hastens to add though, `I never could get the car to run properly down the strip, as the engine would lean out, misfire and cut out. A realistic time should have been around 14 seconds.'
Having used the Duster as his daily driver for four or five years, it was beginning to look a little tatty in places, especially behind the rear wheel arches. It was time for some major bodywork. However, Steve couldn't afford to carry out any major mechanical work should he `over-do it' down the strip as well. It was hard, but he made the decision to just use the car for static shows after the resto, ending its days of competing against the clock.
The body repairs included new repair sections behind the rear wheel arches and a respray in two-pack, entrusted to Intensive Care, run by John Clayden in Erith, Kent. Steve also decided to return the car to near original specification, so all the braided hoses and the multitude of chromework under the hood were replaced with stock components.
`I had to keep all the parts that I had removed anyway,' he says, `so it was just a matter of cleaning and painting where necessary before refitting. The cherry bomb exhaust system had to go as well, and the chrome wheels too, replaced with original Rallye wheels.
`I currently run 205-70-14 tyres on the front and 225-70-14 on the rear in order to fill the wheel arches out a little, smaller tyres look a bit too skinny at the back. I have since discovered that the white Plymouth script on the sides of the body was not an original feature, though I quite like the effect and will probably retain them as they are painted on and not decals.
`The 340 numbers were however original on some Dusters. The bumpers which have been rechromed should have overriders fitted to them, but I think they spoil the lines of the car and prefer to leave them off.'
A stalwart member of the Mopar Muscle Association (137 Borough Road, Petersfield, Hampshire, 01730 268375), Steve had MMA president Tony Oksien decode the fender tag and broadcast sheet found under the rear seat, which confirmed that his car was indeed a fine genuine example of the marque.
Over the ten years Steve has owned his Duster, he's found it fairly practical to use as a daily driver, though with its bright paintwork and body script making it conspicuous, his main concern was leaving it parked just anywhere, in case of theft or vandalism. Fortunately it has survived unscathed. Apart from changing a burnt valve and a couple of clutches, the car's serviceability record has been quite exemplary and its exhaust emits the most endearing mellifluous burble!
`I've always been delighted with my Duster, it's pretty quick, and relatively cheap to run. Then there's exciusivity too, as there are not many around nowadays; it's even won several awards at shows,' enthuses Steve. Clearly a fine example of man and machine in perfect harmony.
ORIGINAL RALLYE WHEELS LOOK THE PART

REAR BUMPER OVERRIDERS WERE REMOVED TO KEEP THINGS SIMPLE
Photographic location by kind permission of `The Wharf' public house, Cotton Lane, Crossways Business Park, Dartford, Kent.
E-mail Steve Bainbridge the owner of this fine car if you have any questions or comments.
Magazine article courtesy of Classic American magazine available third Thursday of the month from all major newsagents.